How to start a banking job after graduation?
Parttimejobsall
May 8, 2021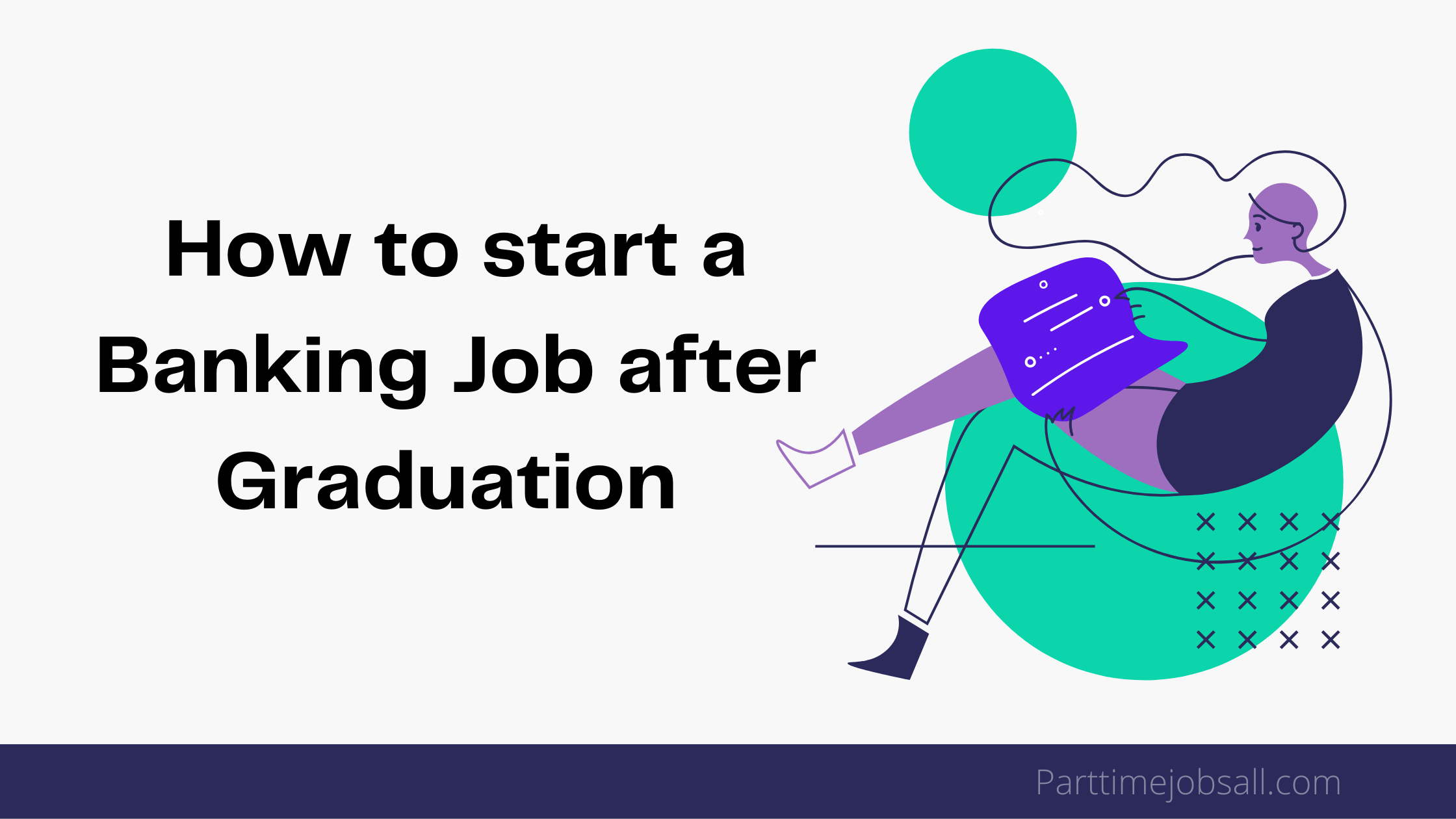 © Parttimejobsall
Table of Contents
Banking jobs are said to be one of the most relaxing as well as the most prestigious jobs in India. Working in banks can be rewarding each day. Banking jobs not only offer a decent salary but also so many perks including travel allowance, house rent, medical insurance, and so on. Every year lacs of people prepare for banking jobs because of its offerings. A graduation degree is needed to start planning for banking jobs.
PERKS OF BANKING JOBS
Along with salary, they have numerous allowances for petrol, telephone, house rent, entertainment, newspaper, canteen, medical and so on. It is one of the most royal jobs in India, offering so much.
The timing of the job is fixed,i.e mostly 9 to 5 jobs. It is one of the most attractive things about banking jobs as they don't have to sit or extend for long every day. Their time is fixed.
Numerous opportunities are always opened in banking jobs. If the person is ambitious, then he/she can easily excel in there banking industry, leading to an outstanding career in the very next lane.
The working conditions in any banking jobs are excellent. One can sit in an AC Cabin and work easily. They have flexible lunchtimes and canteens to spend their breaks and enjoy the moments. They have a complete facility to relax.
Working in the banking sector means numerous learnings and continuous education. The banking sector gives the right amount of offers and opportunities to attain higher education while working in the banking sector itself. Thus, it is one of those jobs which offers a complete package to its employees
TYPES OF BANKING JOBS
Though people know a few of the jobs in the Banking sectors which are mainly PO Administration jobs, there are many other sectors in banking, where the jobs are available. They mainly include Consumer Banking Jobs, Compliance Jobs, commercial banking jobs, human resources jobs, operations, and accounting jobs, public relations and marketing jobs, and so on. These job positions could be secured with the SO exams and preparations.
A bank also requires people who deliver financial services, manages employee placements, bookkeeping, and financial analysis, promoting bank products and services, and a lot more. Thus, there is various profile available in the banking sectors.
HOW TO PREPARE FOR BANK JOBS
There are basically two types of banking jobs. The first one is those jobs where a resume is required, with certain degrees and eligibilities. And the other jobs, which include clearing of exams such as PO, Clerks, and SOs exams.
Both of these kinds of jobs required different preparations. If one is looking for the first kind of job, then all a person needs to do is to decide a position for which he/she wants to apply. Then create a resume as per the job requirement, once created, do a little bit of research before applying for the position and then apply, if everything seems fine.
If a person would like to avail of the jobs in the banks by clearing certain exams, then the main exams they need to clear are PO Exam (Probationary exams), SO Exam (Special Officers exams), or Clerks exams. These exams are common for all the banks which came under the public sector and for private sector banks, they have their different exams usually. RBI also has its own set of exams to clear in order to get a job in the bank.
Thus, if one needs to prepare for bank jobs, the first thing to do is to identify the specific positions, he/she has to grab the opportunity and then, start preparing for it, by doing certain research and planning.
EXAMS FOR BANKING JOBS
There are various different exams for banking jobs which one can look into. Most of them are SBI Clerk/PO/SO, IBPS Clerk/PO/SO, RBI PO, RRB Clerk/PO/SO, and other sus=bsidiary bodies exam. Though the syllabus and exam pattern for most of them are the same, one could find a little difference in these exams, but that can be covered easily.
NABARD and RBI Officer level exams are other exams to be taken care.
EXAM Process
Each exam related to the bank is usually divided into three major phases which include the preliminary exams which consist of common aptitude, reasoning, and English papers.
Another phase includes the mains exam in which along with maths, subjective papers also includes which are general knowledge and language papers. Once this phase is cleared, then the final phase includes the interview phase.
All the knowledge related to banking and general knowledge could be asked in the interview along with current affairs. Thus, there are three major phases of any banking exams, which one needs to work on.
TIPS FOR PREPARATION
As mentioned above, for PO Exams, there are common exams for most of the public sector banks, conducted by the government body known as IBPS. The exam is also known as IBPS PO Exam. This exam mainly deals with five of the most common subjects which are known to be the most common syllabus while preparing for the examinations.
The most common five sectors include general English, quantitative aptitude, computer knowledge, reasoning, and numerical ability. Once you have hands-on in these sectors, nothing can stop you from cracking the exams for any of the banks identified in India.
In fact, for RBI Exams and RRB Exams, the syllabus is almost the same with just a little difference which can be taken care of at a later stage. RS Agarwal is the book best known for aptitude and numerical ability. For other subjects, one can easily get enormous material on the internet else there are thousands of coaching classes available that help in preparing certain exams for banking. One can join those classes too.
It is very easy to prepare for bank exams, the only thing to make sure is one must be consistent in their preparations and paths will open by themselves.