5 Ways The INSTAGRAM Will Help You Get More Business in 2021 - Read Now
Parttimejobsall
May 6, 2021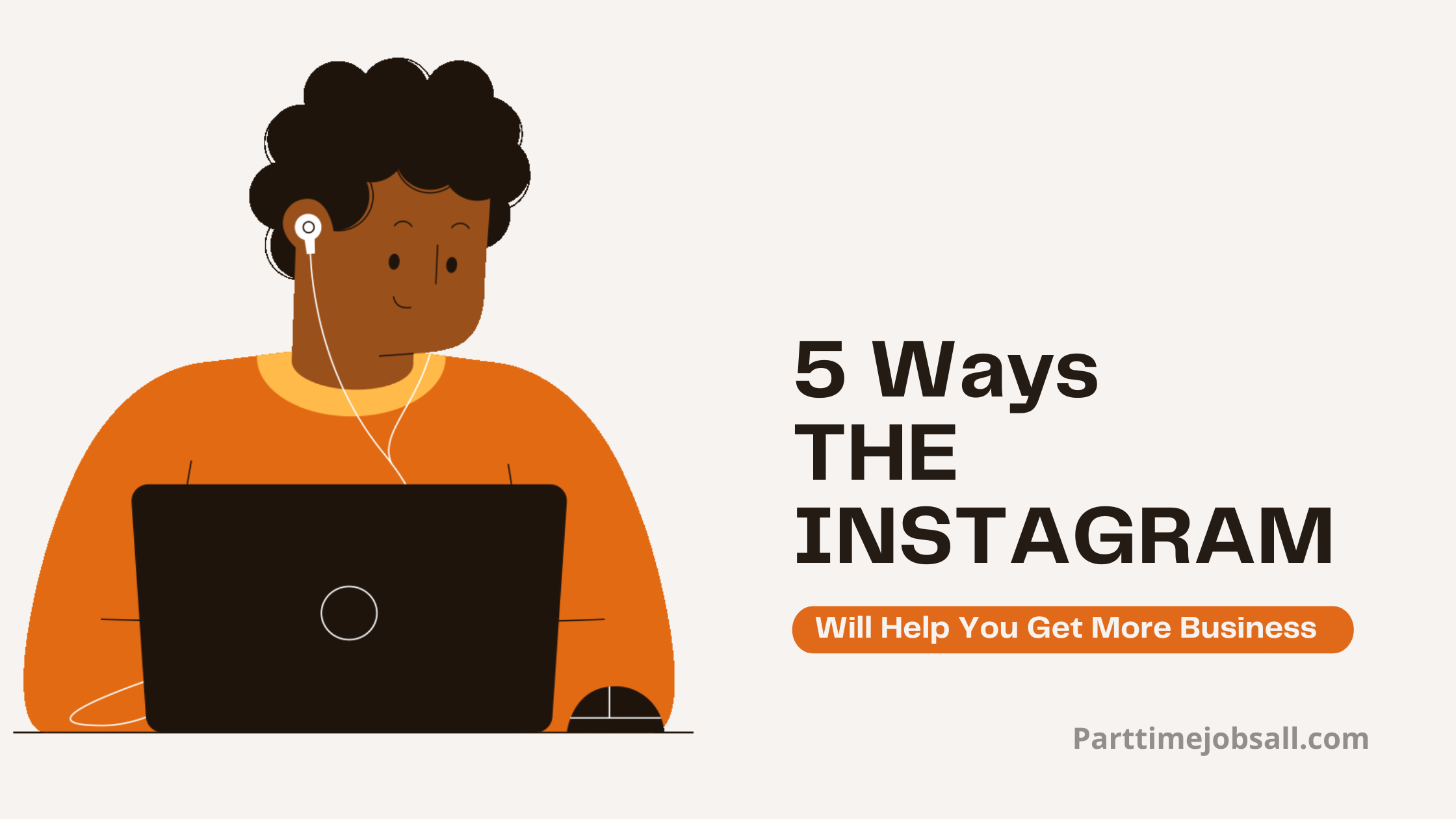 © Parttimejobsall
Instagram is one of the most famous social media platforms in the world. Every day, Instagram sees 1 billion active users which is a huge number. Thus, many companies and businesses are joining Instagram to promote their business.
Instagram has many influencers who have a lot of followers. As the number of follower's increases, the influencers become famous personalities and eventually become a brand. To improve the brand value through Instagram marketing, here are the five ways that can help you get more business on Instagram:
Create a business profile: To get started with Instagram, the first thing that you need to do is create a business account on Instagram. Business accounts are more likely to get success as compared to individual accounts. According to research, it was found at least 200 million users visit at least one business account. A business account also makes your business look more authentic and trustworthy. Since you will be using a business account, you will also be able to create advertisements without the need for Facebook advertising tools. To monitor your progress, you will also get insight to keep track of your posts and ads.
Create sponsored ads: Sponsored ads are one of the fastest ways to get more viewers in a day. All you need to do is create a sponsored ad on Instagram and post it. Then millions of users will be recommended with your ad. It will help you get more exposure which is great for the growth of your business. You can target the audience to even increase the chances of getting more followers. You can create different types of sponsored ads like images, videos, stories, and dynamic ads.
Engage with the audience: If you want to gain the trust of your audience, then you should engage with them regularly. By engaging with your audience, you will be able to get feedback from them about your business. Users who engage with you regularly are more likely to become your trusted customers. Thus, interact with your audience as much as possible to keep them engaged. If you do not engage with your audience and just simply put up the posts, you are more likely to get very few followers who will become your customers. Thus, try to engage as much as possible with your audience.
Add location tags in your stories and posts: Whenever you post a story or image in your feed, you should add a location tag. It will help your audience to know where exactly your business is. Even the people who do not follow you will be able to see your business by looking for the same in the localization. Thus, you will be able to get more followers and potential customers. You must always geotag your posts and stories to reach people in the same area or locality. Along with the location, you also need to make sure that your post looks attractive enough to get the attention of users.
Use hashtags wisely: Many businesses do not understand the importance of hashtags which is why they stay behind their competitors. Hashtags allow you to define your post by using various words. Instagram allows a total of 30 hashtags in a single post. However, you should not write all 30 of them as it will look more like spam. Instead, use about 5-10 hashtags on your every post. You should be clear when writing hashtags as it will allow the user to identify your business. Be sure to include hashtags in your every post and stories to get more followers.
Why Instagram is good for business
Here are some of the following reasons why Instagram is good for getting more business:
Storytelling: People love to hear stories and are always fascinated by them. By telling a story on Instagram, you can connect with your audience on an emotional level. You can do so by creating amazing content that will grab the attention of Instagram users. However, do not use fancy images or designs that will confuse the users. Be as simple as possible to be able to connect with the user easily. You can get an amazing response from the audience for your amazing storytelling post.
Visual content: Instagram allows its users to share photos and videos and others. People tend to attract more towards visual content rather than just plain content. Thus, Instagram posts and stories are highly reliable as they can generate a lot of potential followers for you. You can engage with your followers and keep them hooked to your business. You have the freedom to upload images and videos of your liking. Just be sure that your content is reaching the audience and they are loving it. Instagram has one of the best user engagement which is why you will have higher chances of getting more exposure on Instagram.
Reach a lot of people: One of the reasons why Instagram is the perfect place for business is because of its user base. With over 1 billion active users daily, Instagram is one of the best places to promote your business. All you need to do is just upload a post and wait for the users to interact with it. In the business account, you will have the feature to track the progress of your posts. You can also create content based on the target audience to get more followers.
Engage with your community: Out of all the social media platforms, Instagram has the best user engagement. Thus, you can interact directly with your users and get reviews and feedback from them. The more people talk about it, the higher will be the chances of getting more engagement. You can share several posts and stories in your account to keep your users engaged. Users will keep talking about your business which will help you gain even more exposure. Engagement is one of the best ways to get more business. Thus, Instagram is the perfect place where you can get the most user engagement.
Feedback and insights: Through a business account, you will have access to insights which is a great tool for tracking your business. You can monitor your every post and see how they are being perceived by the users. You can know what people are talking about you and your brand. It allows you to take feedback directly from them. You can use the given feedback to improve your services to maintain a healthy business. A business account is a perfect choice for growing your business on Instagram. Just keep an eye on the insights to get regular updates of how your account is functioning.
Keep an eye on competitors: If your competitors are also on Instagram, then you can keep an eye on them. You can monitor every activity like their recent posts, upcoming events, and so on. You can then come up with counter-strategies to gain an upper hand over your competitors. You can find out more about your competitors like why they are famous, what content they post, how frequently do they post, how do they engage with their fans, and so on. Using this information, you can come up with the best strategy for yourself. You can even discover new methods to perform better than your competitors.
Instagram has a lot of users actively using the platform daily. If you follow the above methods carefully, you can use the platform to improve your business value and get more reputation. The user engagement of Instagram is very high which is why small businesses and entrepreneurs are successful in Instagram.